ISED Data Strategy Infographic
Jump to navigation
Jump to search
(Francais: Infographie de la Stratégie des données d'ISDE) (Home Page: ISED Data Strategy)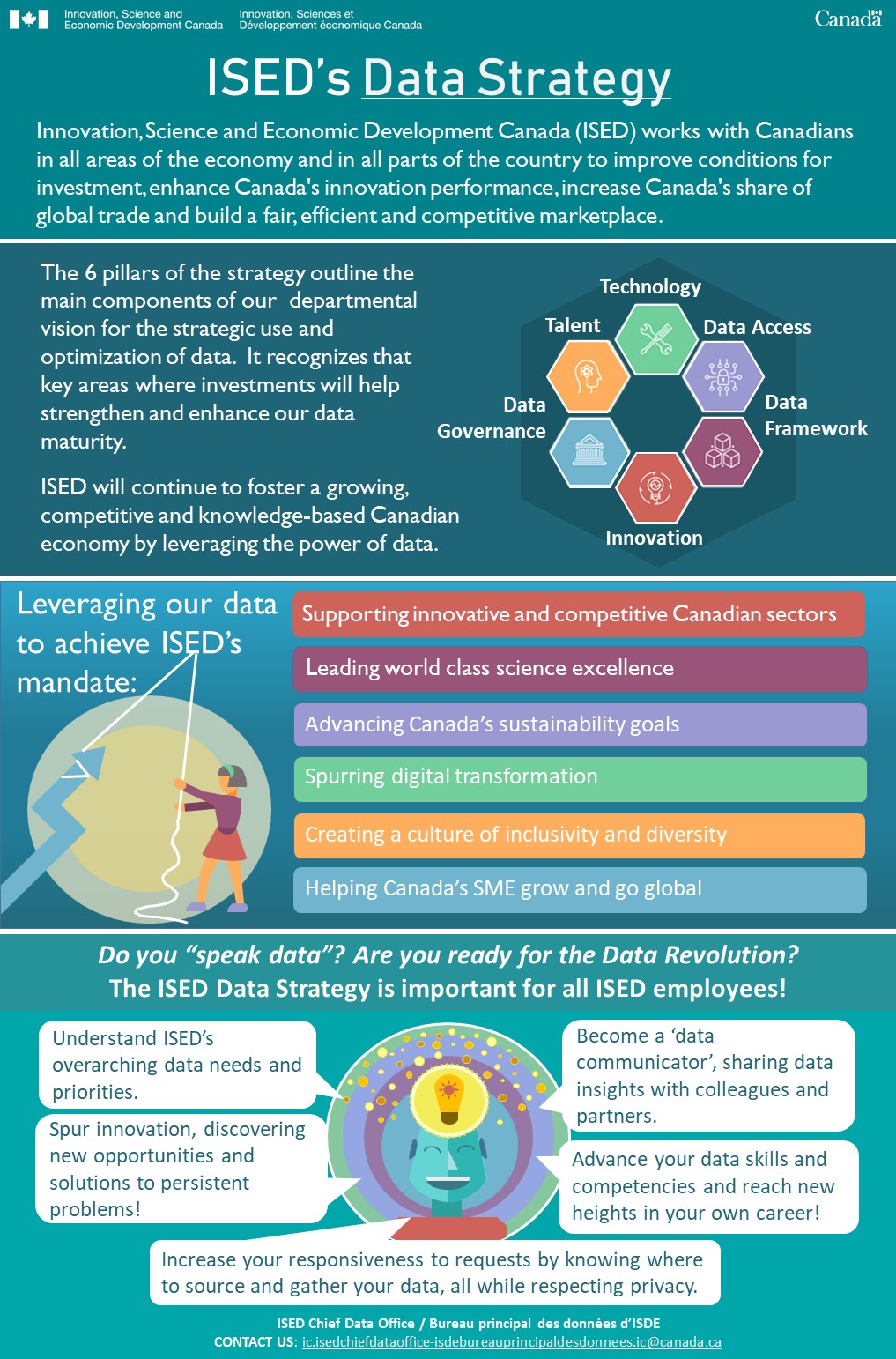 ISED's Data Strategy
Innovation, Science and Economic Development Canada (ISED) works with Canadians in all areas of the economy and in all parts of the country to improve conditions for investment, enhance Canada's innovation performance, increase Canada's share of global trade and build a fair, efficient and competitive marketplace.
The 6 pillars of the strategy
The 6 pillars of the strategy outline the main components of our departmental vision for the strategic use and optimization of data. It recognizes that key areas where investments will help strengthen and enhance our data maturity.
ISED will continue to foster a growing, competitive and knowledge-based Canadian economy by leveraging the power of data.
Leveraging our data to achieve ISED's mandate:
Supporting innovative and competitive Canadian Sectors
Leading world class science excellence
Advancing Canada's sustainability goals
Spurring digital transformation
Creating a culture of inclusivity and diversity
Helping Canada's SME grow and go global
Do you "Speak data"? Are you ready for the Data Revolution? The ISED Data Strategy is important for all ISED employees!
Understand ISED's overarching data needs and priorities.
Become a 'data communicator', sharing data insights with colleagues and partners.
Spur innovation, discovering new opportunities and solutions to persistent problems!
Advance your data skills and competencies and reach new heights in your own career!
Increase your responsiveness to requests by knowing where to source and gather your data, all while respecting privacy.
ISED Chief Data Office / Ic.isedchiefdataoffice-isdebureauprincipaldesdonnees.ic@canada.ca