Federal Youth Network/Home ENG/Events/EEDIAR
Jump to navigation
Jump to search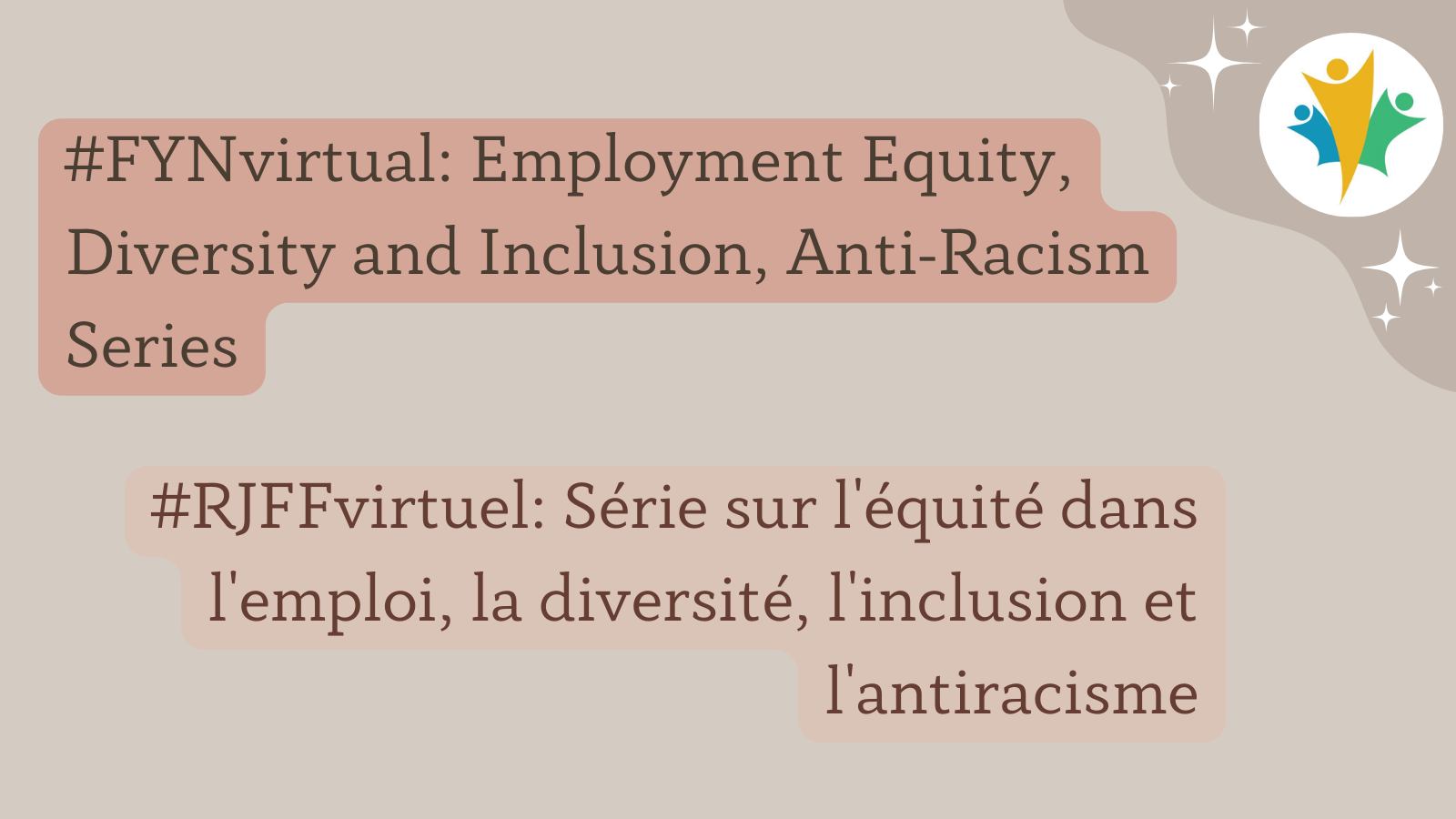 Welcome to our Employment Equity, Diversity and Inclusion, Anti-Racism Series!
Description
Equity, Anti-Racism and Mental Health in the Federal Public Service - October 6, 2022 at 13:30 - 15:00 EST - REGISTER
Dr. Martin Nicholas and Elisabeth Martin are two of the most informative and engaging speakers on equity, diversity, inclusion and Anti-Racism within the GoC. Join them on October 6th for a one of a kind presentation that you don't want to miss. They will discuss:
Equity in the Federal Public Service is Substantive Equality as protected by the Charter
Research and Analysis of Representation Data of Black Employees and the Employment Equity Designated Groups in the Public Service
Cost of Racism on the Mental Health of Canadians
This will be followed by a Q and A from the audience. We hope to see you all there.
Date:
Oct 6, 2022 1:30-3:00pm EST Bilingual
Speaker
Bio
Socials/Contact


Dr. Martin Nicholas

One month after retirement from the Federal Public Service, I returned in October 2020 to work on Anti-Racism, Anti-Discrimination and Inclusion and Belonging in the federal public service. I had worked for 30 years at Health Canada on compliance and enforcement of federal legislation. For 25 years, I worked from the side of my desk, to be actively involved in employment equity (EE) as a Chair 0f EE and other related committees.  I served on the Steering Committee (1997-2003) for the Implementation of Landmark CHRT Order on racial discrimination against Health Canada (https://decisions.chrt-tcdp.gc.ca/chrt-tcdp/decisions/en/item/6924/index.do?q=NCARR), which includes 7 Permanent Corrective Measures that are still applicable in 2022. Mr. Ian Shugart, the Clerk who launched the Call to Action was my Champion. The Special Corrective Measures (SCMs) in the Order provide insight to all federal institutions into what duty of care and due diligence is required for complying with the EE Act and EE Regulations in their current form. Notably, the SCMs call for redressing the effects of past discrimination in accordance with substantive equality enshrined in Section 15 of the Canadian Charter of Rights and Freedoms.


In Justice Canada, we have developed predictive workforce projections that are clear and easily communicated to address out-of-date WFAs and LMAs. This summer, I analysed and found serious disparities in salary range representation for EE groups in the Core Public Administration of the Federal Public Service from 2017 to the present. Data shows that the Black EE subgroup is the most adversely affected both in terms of stagnation at the lower salary ranges and barriers to career advancement and entry to the Executive Cadre.


It is well recognized that racism is a risk factor for adverse health impacts including a cause of mental trauma.  Still, collectively in Canada we have failed to include Anti-Racism as a factor of the National Psychological Health and Safety Standard.  I am dedicated and committed to working collaboratively to redress this omission.

https://www.linkedin.com/in/a-martin-nicholas-736a353b/
Elisabeth (Liz) Martin
Liz currently works as a Human Resources Advisor for Shared Services Canada. She is also a board member of the Anti-Racism Ambassador Network (ARAN). This grassroots volunteer network is made of public servants across jurisdictions in Canada. It acts as a community mobilizer and connector to collect, house and disseminate information and resources on Anti-Racism activity for all to use. It amplifies the work done by Black, Indigenous and other racialized colleagues to dismantle systemic racism with an intersectional lens.





Liz was the co-chair of the Federal Black Employee Caucus (FBEC) - BC chapter from September 2020 to June 2022. She organized the first national collaborative, grassroots, and Black-led speed mentoring/coaching events dedicated to non-executive federal Black public servants in September 2021. She led several FBEC-BC activities dedicated to the mental health of federal Black public servants.


Liz is a jurist by training and an advocate at heart. Her three favourite words are "why?" and "why not?" Her mantra is "Purpose over popularity". She challenges status quo and believes in the power of grassroots movements.
Deconstructing Colonial Practices in the Public Service - October 11, 2022 at 13:30 to 15:00 ET - REGISTER
Join Jolene Head, one of the GoC's most preeminent thought leaders, for an important and insightful conversation on Deconstructing Colonial Practices in the Public Service.Jolene will discuss Reconciliation and decolonization in the public service. She will also speak about the many ways that Indigenous knowledge can be used within the public service to create more safe and inclusive work environments. Lastly, Jolene will discuss how the public service system and its culture can be used to effectively promote authentic Reconciliation efforts that effectively center Indigenous people.Please note, this presentation will be based on Jolene's master thesis which features insights from many public sector leaders and Indigenous Elders as well. Feel free to access it here before the event: Deconstructing Colonial Practices in The Public Service.This is a thought provoking conversation that you don't want to miss. Register today!!
Date:
Oct 11, 2022 1:30-3:00pm EST Bilingual
Speaker
Bio
Social/Contact


Jolene Head

Jolene is a member of the Opaskwayak Cree Nation in norther Manitoba. She spent the bulk of her public service career in various positions within ISC/CIRNAC mainly in the areas of land, resources and environment.  Most notably, she was the lead Director on the pre-inquiry engagement for the creation of the Missing and Murdered Indigenous Women and Girls Inquiry. Currently she is the Special Analyst on Reconciliation and Indigenous Engagement at Public Services and Procurement Canada (PSPC). She has recently completed her Masters of Arts in Leadership with Royal Roads University with her thesis entitled, Deconstructing Colonial Practices in the Public Service.


Her research was conducted through the methodology of wâkôtowin, utilizing Indigenous methods to gather data. The research allowed all niwâkomâkanak (my relatives) to share their truths about working in and against a colonial system while also offering recommendations on addressing the systemic barriers in the Public Service system.


She successfully defended her thesis on May 26, 2022 and we have invited her to present and discuss some of her findings. This dialogue will help us set the stage for a wider discussion on innovation leadership as part of our efforts to build an innovation culture at ISC.

https://twitter.com/jchead
Moderator:


Morgan Hurtubise

Morgan is from the French community of Bourget in Eastern Ontario. She worked as a piano teacher and as a coordinator at a non-for-profit before joining the public service in 2018. She has held different roles at Public Services and Procurement Canada, currently as a junior analyst for the Indigenous Procurement Policy Directorate. Her fields of knowledge include Parliamentary Affairs, proactive disclosure, and accessibility.
Evidence Based ways to impact Diversity, Equity, Inclusion and Anti-Racism - October 25, 2022 at 13:30 to 15:00 ET - REGISTER
Join GoC HR extraordinaire Etienne Laliberté as he shares his thoughts on evidence based ways to impact diversity, equity, inclusion and Anti-Racism in the Federal Public Service. Etienne has been doing tremendous work in HR and has excellent ideas on Human Resources Innovation, staffing, hiring and promotion. This is a conversation you don't want to miss.
Date:
Oct 25th 1:30-3:00 Bilingual
Speaker
Bio
Socials/Contact


Étienne Laliberté

Étienne Laliberté, Human Resources Innovation


Formerly a business consultant and web development project manager in the private and para-public sectors, Étienne joined the federal public service in 2003. He has since worked in eleven federal organizations, with most of his experience revolving around people management and human resources (HR).


After working on the implementation of the new Public Service Employment Act, Étienne joined the law enforcement branch of Fisheries and Oceans Canada in the Pacific region and hacked bureaucracy by systematically conducting staffing processes in three weeks. Perhaps more significantly, he helped turn the worst organization in the federal public service into the second best for its employee engagement.


Since 2018, Étienne has been firmly anchored in the HR innovation sphere. He has interviewed over 100 organizations about their HR innovations, especially in the areas of staffing and recruitment. He researched "predictive hiring", an approach based on data and advanced statistics. Shortly after the pandemic started, he interviewed over 200 HR leaders across the federal public service about their views on the future of HR. He has explored how we could use data to make staffing and recruitment more efficient and initiated a project examining employment equity in annual performance reviews.


Fun fact: Étienne was the first non-official blogger in the public service of Canada, and perhaps its first videoblogger too!


You may follow him on his GCcollab group (3rd most popular group on GCcollab, with 5,400+ members) or YouTube channel or connect with him on Twitter.

https://twitter.com/EtiennLaliberte