Federal Youth Network/Home ENG/Events/Departmental Showcase/Past Sessions
Jump to navigation
Jump to search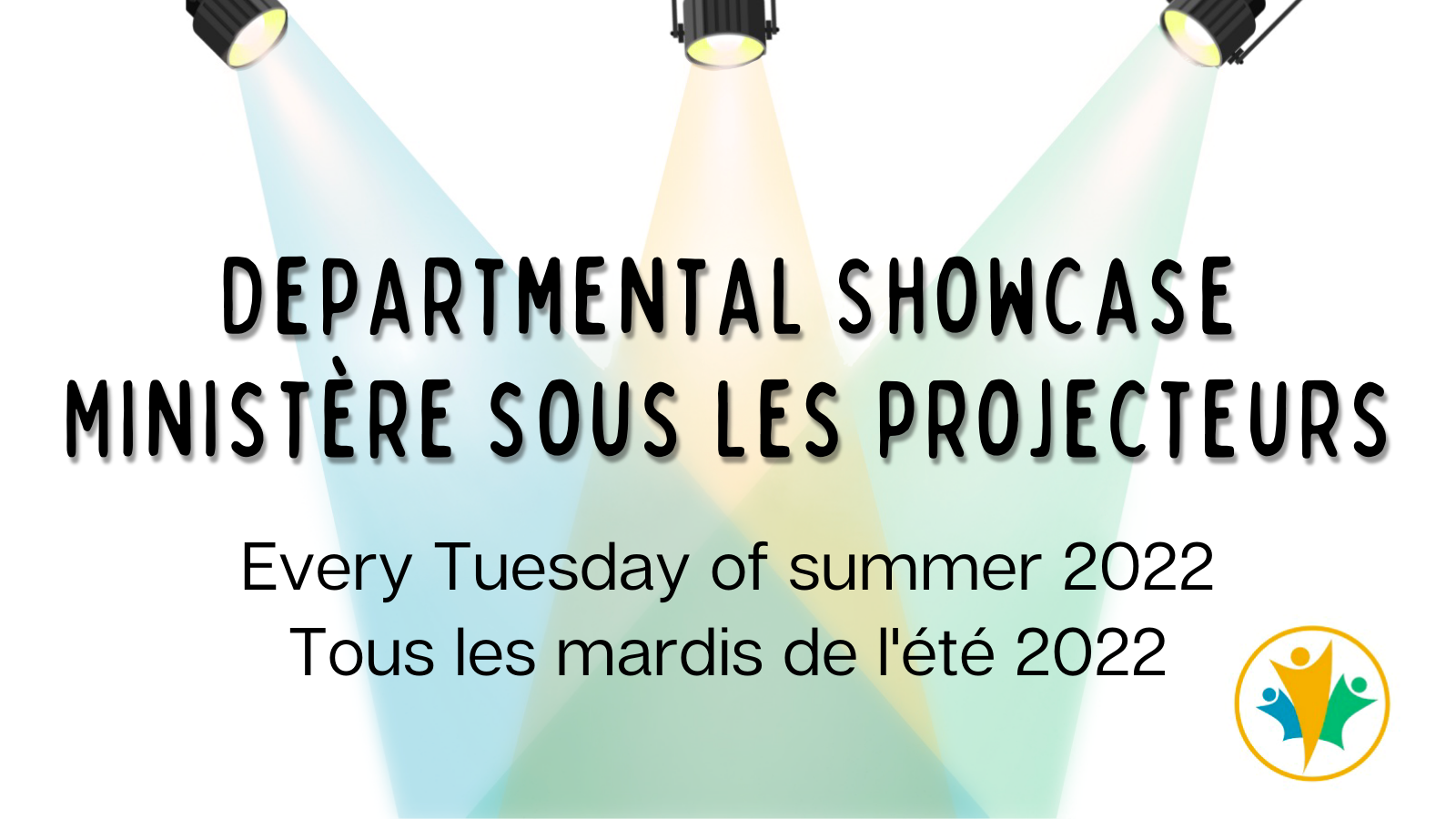 Departmental Showcase Summer 2022
Description
Being a federal public servant means you have 300k colleagues. The public service is a career map with multiple destinations and you can follow opportunities without terminating your employment. You should never feel stuck in one job, one team, under one branch, or in one department.
By showcasing a sampling of departments, the Federal Youth Network and its partners will guide you on your public service journey.
From June 21 to September 27, 2022, join us every Tuesday to hear about cool jobs, common role responsibilities, and bust misconceptions from future leaders in their departments.
It's just the beginning of an exciting adventure for you!
Schedule
Date
Department
Speakers
Resources
June 21, 2022

13:30 - 14:30

Employment and Social Development Canada
Speakers

Moderator




June 28, 2022

13:30 - 14:30

Women and Gender Equality Canada
Speakers

Moderator




July 5, 2022

13:30 - 14:30

Innovation, Science and Economic Development Canada
Speakers

Moderator




July 12, 2022

13:30 - 14:30

Immigration, Refugees and Citizenship Canada
Speakers

Moderator




July 19, 2022

13:30 - 14:30

Environment and Climate Change Canada
Speakers

Tina Cobbs
Santana Ochoa Briggs

Moderator




Contact: reseaunationaldesjeunes-nationalyouthnetwork@ec.gc.ca

July 26, 2022

13:30 - 14:30

Correctional Service Canada
Speakers

Nina Halstead
Derek Paquette

Moderator

Jennifer Gould
Anthony Leclerc




August 2, 2022

13:30 - 14:30

Statistics Canada
Speakers

Mahrukh Shah
Zheren Hu
Frances Zsurka

Moderator

August 9, 2022

13:30 - 14:30

Canada Revenue Agency
Speakers

Julianna Mutch
Mamadou Bakayoko
Prerna Ghura
Shyam Shukla

Moderator




August 16, 2022

13:30 - 14:30

Indigenous Services Canada and
Speakers

Beverley Thompson
Felix Mercure
Hannah Burnett
Julia Martini

Moderator




September 13, 2022

13:30 - 14:30

Health Canada / Public Health Agency of Canada
Speakers

Beata Bak
Tammy Nguyen
George Mammen

Moderator




September 20, 2022

13:30 - 14:30

National Defense
Speakers

Mark Adam
Richard Savill
Kimberly Sorfleet

Moderator




September 27, 2022

13:30 -14:30

Shared Services Canada
Speakers

Moderator