Community of Federal Regulators
Community of Federal Regulators



About the CFR
The Community of Federal Regulators is a Government of Canada inter-departmental community working together to strengthen the capacity of federal regulatory professionals, thereby supporting to build a regulatory community Canadians trust to maintain and strengthen regulations affecting health, safety, security and prosperity in a sustainable society.

The activities of the Community of Federal Regulators are supported and delivered through the CFR Office housed in Health Canada. The primary functions of the Office are to plan/promote regulatory learning and development activities, to identify and facilitate collaborations for innovative ways of working in the regulatory field, and to enable exchange of effective regulatory strategies/tools between regulatory organizations.


Vision
To enhance and sustain the capacity of the federal regulatory community through learning, partnerships and best practices

Mission
A regulatory community Canadians trust to maintain and strengthen their health, safety, security and prosperity in a sustainable society

CFR Governance Structure
The CFR is championed by the President of the Canadian Food Inspection Agency, Dr. Siddika Mithani. Also supporting the community and providing direction to the CFR Office are two Assistant Deputy Minister Co-Champions: Tina Green (Assistant Secretary, Regulatory Affairs Sector at the Treasury Board of Canada Secretariat) and Linsey Hollett (A/Assistant Deputy Minister, Regulatory Operations and Enforcement Branch, Health Canada).

The CFR champions are advised by an ADM Steering Committee made up of representatives from participating departments and agencies. The ADM Steering Committee provides direction to a Director General Committee and the CFR Office on priorities and planning.

The DG Committee is comprised of Director Generals from CFR partner organizations and provides guidance in the development of CFR plans to ensure that community resources are allocated towards priority activities that suit community needs.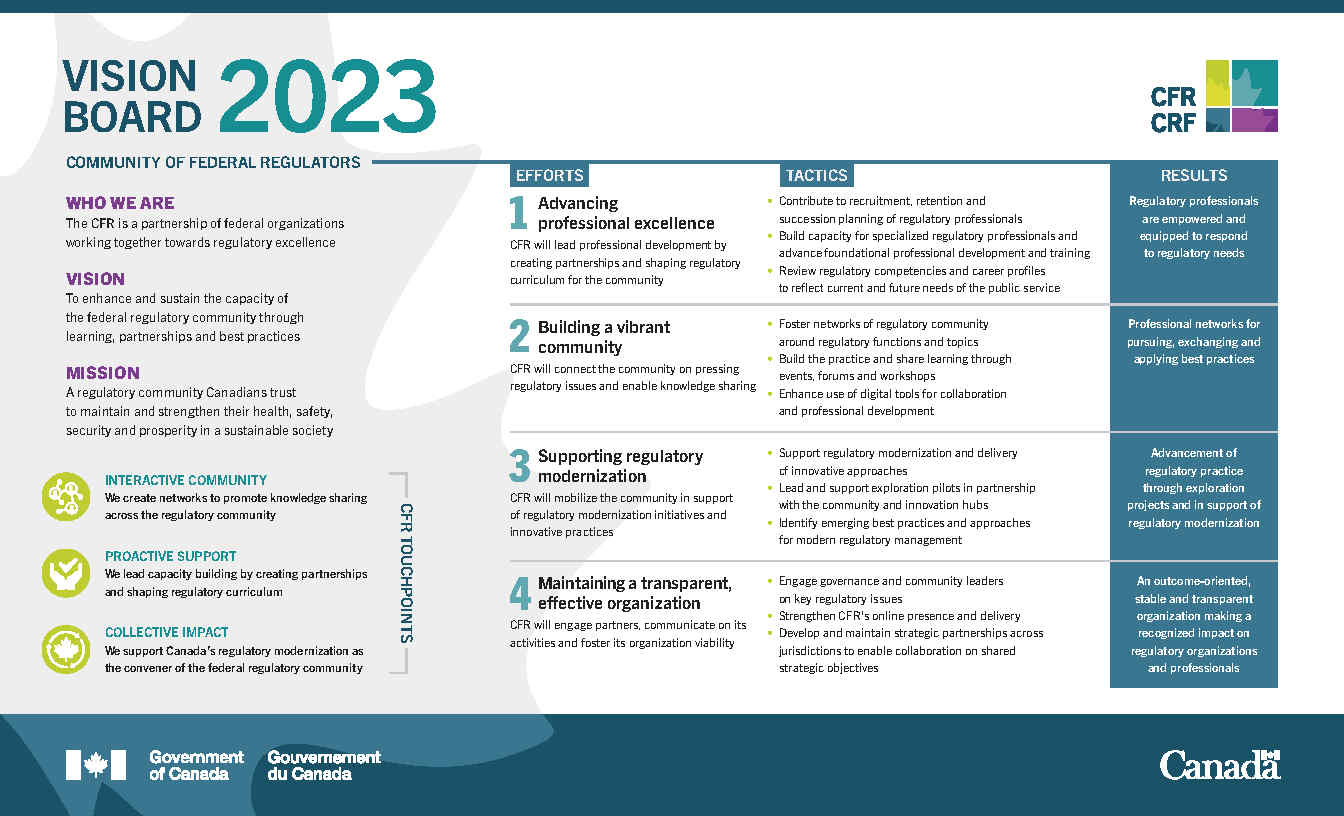 CFR Vision Board 2023
As per the CFR Vision Board 2023, CFR's activities will focus on four key areas: Advancing Professional Excellence, Building a Vibrant Community, Supporting Regulatory Modernization and Maintaining an Effective Transparent Organization.