Application Portfolio Management (APM)
Jump to navigation
Jump to search
TBS Report on the State of Aging IT (2010) affirmed that Application Portfolio Management is not consistently practiced GC-wide, thereby supporting the need for a formalized approach for the management of applications.
75% reside in the back-office, many are home-grown, solve the same business needs and do not leverage enterprise opportunities
Efficiencies can be realized by consolidating and standardizing back-office applications in order to redirect resources towards the renewal of aging systems & towards government priorities
List of GC applications based on departmental reporting.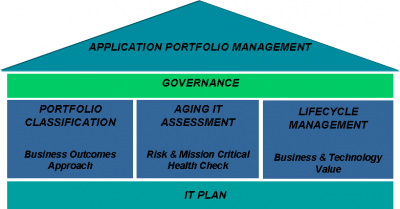 Improve the maturity of application portfolio management practices across government to provide a holistic view of the GC applications landscape and related risks and investments
Support government-wide strategies on the renewal & ever-greening of aging applications that are both economical and ensure the continuity of services to Canadians
Implement multi-year investment planning for applications that is interlocked with corporate risk and investment planning to direct investments towards government priorities
APM to focus IT investments to best meet business objectives, with an acceptable level of risk and at a reasonable cost.
APM 2018 Guidance Documents
[
edit
|
edit source
]
Previous Guidance Documents
[
edit
|
edit source
]
The latest information about training and events is on the APM GCconnex group.
Date
Session
Agenda
Training Materials or Minutes
2018-07-13
APM 2018 data model feedback session
Event agenda
Meeting Summary 2018-07-13
2017-05-25
9:30am-11:30am
APM Community Meeting
0. 9:30-9:40am Introductions All


1. 9:40-10:00am GC APM Open Data Pilot Update Troy M (TBS) / Karri C (TBS)
2. 10:00-10:20am GC APM scope, terms and timelines Troy M (TBS)
3. 10:20-11:00am Community topic: APM user guide
4. Community topic: location of designated sites
Community topic: TBS risk factors and their weights used for "Technical Condition" and "Business Value" assessments
Community topic: How are other departments collecting data?
5. 11:00-11:10am Open source APM introduction Johanne JB (STAT CAN) / Gabriel C (SSC) / Nathan D (AGR)
6. 11:10-11:20am GC EARB introduction Gavin B (TBS)
7. 11:20-11:30am Roundtable All

https://gcconnex.gc.ca/discussion/view/26678602/gc-apm-meeting-gc-gpa-reunion
2016-04-18
2:30pm-4pm
APM 2016 Training
2:30-2:50pm - Overview of APM 2016


2:50-3:05pm - CBAS Overview
3:05-3:20pm - BCP and Service Overview
3:20-3:40pm - CFIA Presentation of the Data Asset Inventory Project
3:40-4:00pm - Discussion on scope of APM 2016 items, and general Q&A

2015-09-29
10:30am-12pm
APM 2015 Training / Formation sur la GPA de 2015
Overview of APM 2015 / Aperçu du APM 2015
2015-08-11
or/ou
2015-08-13
1:30pm-2:30pm
La migration de l'application Windows Server 2003 (WS2K3) / Windows Server 2K3 Migration
Overview of the Windows Server 2003 Retirement Program / Aperçu du programme de retraite de Windows Server 2003


Progress Reporting using APM / Rapports d'étape en utilisant GPA

2015-08-12
10:30am - 12pm
or/ou
2015-08-17
1:30pm - 3pm
Collection des données pour la migration de l'application Windows Server 2003 (WS2K3) / Windows Server 2K3 Migration Data Collection
Intro to Application Portfolio Management (APM) / Introduction à la gestion de portefeuille d'applications (GPA)


Preparing the data submission / Préparation de la soumission de données

2014-12-17
3:00pm-4:30pm
2014 APM Orientation Session
Session 1: Contingency planning


Session 2: Essential Applications Mapping

2014-12-02
2:30pm-4:30pm
2014 APM Orientation Session
Session 1: Overview

2014-03-27
1:00pm-3:00pm
APM 2013-14 - TIME & Lessons Learned
Session 1: Mission Critical Analysis


Session 2: Demo IT Planning & MAF linkages
Session 3: Lessons Learned

2013-10-30
10:00am-12:00pm
APM Training Orientation Session


Data Loader Tips, Application Data QA, Portlet Configuration and Exporting Data

Session 1: Introduction/Compilation of Data Loader feedback


Session 2: Performing your Quality Assurance - Tombstone Info/Ifrastructure Info
Session 3: Performing your Quality Assurance - Assessments and Final Approval
Session 4: Configuring Portlets
Session 5: Exporting Data to Excel and Reporting

2013-06-21
2:00pm-4:00pm
Part 2: Application Portfolio Management:
- Aging IT, Data model
Session 1 - Recap -Introduction, APM Overview and Lifecycle Assessment Methodology


Session 2 - Data Model: General information
Session 3 - Data Model: Infrastructure information


Session 4 - Aging IT Assessment Methodology
2013-06-18
1:00pm-3:00pm
Part 1: Application Portfolio Management:
- TIME & Lessons Learned
Session 1 - APM Overview
Session 2 - TIME
Session 3 - Lessons Learned
STRATEGY COMPONENTS' references
Related pages Enterprise Portfolio Strategy Index of pages and files about APM on GCPedia News and Events on GCconnex * APM Community Group